Healing Path and Animal Totem Labyrinth Quilts
In following a labyrinth's winding path, you find your way to the center, the interior realm, your own true Self. You cannot get lost on this path, though you may not always know exactly where you are or how far you are from the center. Quilted fabric conveys warmth, safety, and a sense of belonging. Combined with a labyrinth design meaningful to you (such as a labyrinth put onto the shape of a special animal totem, like a turtle, bear, or owl), this work of art can be a tool for you to use at your own pace to discover the benefits of this ancient form.
Discover a new sense of calmness at your center
Find your self in the renewed expression of your own journey
Mark a significant point in your life journey with meaningful symbols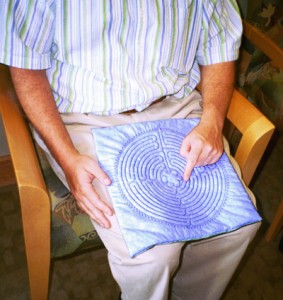 The labyrinth quilt can be a bare-bones, stitched, lap-sized, labyrinth-only style (as in the one shown here), or they can be one of a variety of animals shapes, or they can be pieced, with the labyrinth placed on a background with Celtic or other borders framing it, and family photos or symbols (of dreams, businesses, etc.) added to make it a truly unique work of art.
"I'm so content with the quilted labyrinths I have. They are a lovely source of quieting and centering." –  JC
"It was the perfect light-weight item for my backpack and my contemplative solitary time in the Sacred Mountains.  Thank you." ~ NA
To see what is currently available, please visit my etsy shop at: http://www.etsy.com/shop/InnerLandscaping.  If you would prefer to order a custom quilt, please let me know what you have in mind so I can discuss it with you first, to see what kind of design fits you best, and give you a quote.
As an added benefit to my customers, I provide for them a labyrinth companion story. It's meant to spark your imagination and be a reminder of how simple sometimes the first step can be, even when there are many unsure ones ahead. Read an excerpt from this story if you like.
You might want to journal about your labyrinth experiences. If so, then Aliyah Schick's new book, "The Labyrinth Guided Journal" is the perfect repository for such writings. It contains room for brief notes for a whole year's worth of daily journeys into the labyrinth, with weekly comments/suggestions for approaching your walks. I highly recommend it.