Butternut Squash and Potato Strudel (makes 8 servings; I usually double it)**
2 T butter
1 C chopped onion
1 t. salt
1/2 t ground black pepper
1T fresh marjoram leaves or 1 t dried leaves, crushed
1 3/4 C peeled/chopped butternut squash
1 3/4 C peeled/chopped new potatoes
2 T crumbled feta cheese
4 phyllo sheets, thawed
1/4 C melted butter
Garnish: Styrian pumpkin seed oil seasoned olive oil, feta cheese, and fresh marjoram
Melt the 2 T of butter in a large skillet over medium heat. Add onion, salt, pepper, and marjoram leaves. Sauté  5 minutes, stirring occasionally.
Mix in squash and potatoes; cook for 10 minutes, stirring occasionally.
Cover and cook another 5-10-15 minutes, until vegetables are soft and breaking down.
Cool and stir in the crumbled feta cheese.
Separate 1 phyllo sheet from the others, covering the remaining sheets with a damp towel. Brush the sheet with melted butter, then fold it in half lengthwise and again brush with butter.
Place 1/4 of the filling at the bottom of the sheet and fold the sheet over into a triangle. Continue folding until you reach the end of the phyllo sheet. Place on a greased baking sheet. Repeat until all filling is used.
Bake strudel in pre-heated 350 degree oven for 30 minutes until golden brown.
Serve with a drizzle of pumpkin seed oil or seasoned oil, crumbled feta, and a sprig of marjoram or Italian parsley leaves.
**I make the complete recipe once a year; in between, I simply make and serve the filling as an alternative side dish to plain potatoes.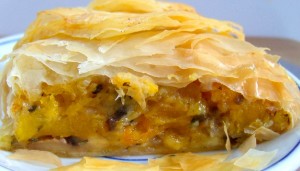 Tags: delight